General Info
This brochure is intended as a reference for Wholesale Accounts, Decorators and Designers. I welcome new accounts; please see the terms.
I also welcome retail customers,and will sell directly to you if I do not have a gallery near you.
About the Artwork
All PaperLight pieces are carefully hand crafted and are one of a kind. Pure cotton linter fiber is blended with water into pulp. This pulp is then cast on hand made forms. After drying, the cast paper shape is decorated with a raised design,and hand painted with various types of water based paints. Gold, copper or silver leaf is applied to most pieces, pottery shards are also cast into some pieces. All pieces have a hanger on the back.The pieces may be displayed flat on a table,on a plate stand,or by hanging on a wall.
(Top of Page)
About the Business
PaperLight was founded in Laguna Beach,California in 1986 and is currently located in Los Angeles, California
(Top of Page)
Terms
I support a gallery network,and think it only fair that retailers and decorators set their own prices for the work they buy from me. If you are a retail customer,email or call me with your zip code,and I'll try to connect you with a gallery near you, if possible. I do my best to try to only sell to one store per zip code, so new accounts need to talk to me to be sure your area is available. I have two price levels:
(1) Wholesale Account Pricing is available to stores and galleries who will be maintaining an inventory of PaperLight Artwork. The minimum opening order is $500.Reorders have no minimum.Only some of our shapes are available at wholesale pricing Below minimum orders, and custom requests are priced at Designer & Custom Order Pricing.
(2) Designer & Custom Order Pricing is available to members of the interior decoration/design trade.This price level also applies to special requests from wholesale accounts.I welcome your custom orders. I enjoy the challenge of coordinating my pieces with your clients's decor,and I'm really good at it ! Most of my designs can be changed to match or compliment your paint samples or fabric swatches.Call with your questions.
Accounts will be kept on a net 30 day basis,based on timely payments of invoices when due.Past due accounts will be charged 1.5% per month.
Packing and shipping charges are additional.
Delivery time varies with season: 4-6 weeks is the maximum, but usually much sooner.
All claims must be made within 5 days of receipt.
Rush orders may be extra, call for quote.
(Top of Page)
Available Shapes
(These drawings are not even close to scale !!)
These shapes are available under wholesale pricing:






    

 



    


    

 


    


 Standard Plate
21"Diameter,3" Deep




    

Large Plate
33" Diameter,3" Deep






     
 

    

 

 

    

 Pod
26"Long,13" Wide,3"Deep




    

Rectangle 
22"Long,15"Wide,2"Deep






These additional shapes are available under 
designer & custom order pricing:
 Disk
24"Diameter,2"Deep

 Triangle
23"All Sides,2.5"Deep

 Small Bowl
   11"Diameter

 Large Bowl
 13"Diameter
(Top of Page)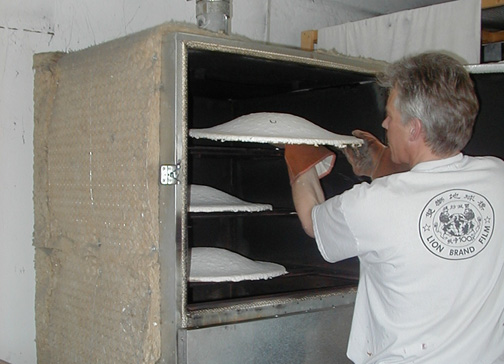 Ordering
Customers ordering for the first time should definitely call so I can check your zip code, be sure you are ordering what you really want,and just generally say hello.
Established accounts who are familiar with ordering from me are welcome to call,
post,or email their orders.

If you are in a hurry,or you just want a little help with an order, you can 
request  artist choice. Just give me an idea of what colors you do not want,and
leave the rest to me. I 'll  put together a group of pieces that sell well, and 
display together nicely. Usually I have some painted pieces on the shelf,
so if you are in a hurry, I can usually get an order to you within days.


(Top of Page)




Contact
PaperLight
Doug Maxwell

Phone 626-301-8758

No fax...........!!

Email: sales@paperlight.com
After becoming an artist in 1995, I discovered that for me, art is a reflection of nature. I hold it in wonder and awe. This is what inspires me to create the work that I do. I feel that good art will demand that we pause in wonder and awe, if only for a moment, at something outside of ourselves. This pause is good for our spirit. Where the art occurs is in someone else's appreciation of it. It is this shared experience that completes the piece.The advantage of working with cast paper is that I am able to design it in a way that makes it appear to be something other than what it is. Most of my pieces look like ceramic or metal.
No matter where the venue is, my experience has always been one of great joy when I see the look of delight on people's faces when they discover that what they are seeing is really paper. For me, that is the completion of the process of making art….passing it on to someone else.
Doug was born in Minneapolis, Minnesota, and grew up in numerous areas of the country as the result of his father's career managing sales and promotion for a major record company. Doug's career as an artist began in 1995 when he began working with PaperLight. Doug became the sole proprietor of PaperLight in 2000. Doug's work experiences prior to PaperLight were varied. Years in the photo industry taught about the use of light and color. Years of managing geophysical survey crews taught about logistics and production. Years of producing self improvement programs and courses for youth at risk taught about emotion, feeling and compassion. Years of working in motion picture set decoration taught about interior decoration, flexibility and precision. A constant through all those years has been an avid hobby of mountaineering, which has produced a deep love and appreciation of the beauty of nature. All of these influences come together to create a unique form of art.
Top

©2001 PaperLight and Doug Maxwell. All rights reserved.